Vitamin Water and Juice Project
Our Vitamin Water and Juice Plants specialize in the production of vitamin water and fruit juices. We cater to large scale production of vitamin water and fruit juices such as orange juice, mango juice, pineapple juice and energy drinks as per the client's choice.
At GIECL,we follow supreme levels of quality and hygiene as far as our production procedures are concerned and we carefully infuse the beverages with the desired ingredients and flavors. According to the configuration proposal, the bottles are subjected to water rinsing, filling and capping using a 3 in 1 mono block using air conveyor. The bottles are then cleaned and rinsed using sanitizer and sterile water. Subsequently, they are filled with the product material and then conveyed to the downstream packing system using a conveyor after the capping process is complete.
During downstream packing, the bottles are completely dried using an air-blow drier. Post this, the production date and mark are printed on the bottles followed by sleeve labelling and shrinking. After light inspection, the eligible bottles are packed into cartons or shrink film, then palletized and sent up to the inventory.
Ultra-high temperature processing (UHT) is most commonly used in fruit juices in which the product and the package are sterilized completely. UHT procedures are ideal for use in aseptic packaging systems and the same is used for Vitamin Water and Juice production processes in our manufacturing space.
Our powerful automated machineries equipped with high end features ensure the complete cycle of Vitamin Water and juice production to be efficient and smooth.
We envision becoming the global providers of healthy and pure Vitamin Water and juices.

Specialty Project Solution :-
Vitamin Water, Orange Juice, Mango Juice, Pineapple, and others as per client choice
Product: energy drinks
Filling speed: 4,000BPH (600ml)
Filling temperature: 88-92℃
Bottle material: PET

| | |
| --- | --- |
| | Bottle shape: Round |
| | Bottle volume: 600ml |
| | Bottle neck: 28 mm / 45 mm |
| | Minimum/maximum diameter: unconfirmed (φ50~φ96mm) |
| | Minimum/maximum height: unconfirmed (150~320mm) |

Cap material: HDPE or PP

| | |
| --- | --- |
| | Weight: unconfirmed |
| | Specification: with pre-screw thread |
| | Color: unconfirmed |

Environment temperature: unconfirmed

| | |
| --- | --- |
| | Humidity: unconfirmed |

Power supply: unconfirmed
Descriptions and Specifications of Equipments
Fully-automatic Plate UHT Sterilizer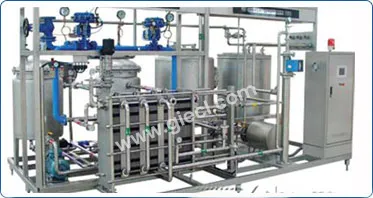 Technical parameters
| | |
| --- | --- |
| Model | UHT-3 |
| Suitable Material | Energy drinks |
| Capacity | 3,000L/H |
| Material Inlet Temperature | 25℃ |
| Sterilizing Temperature | 95-137℃ |
| Sterilizing Temperature Control Accuracy | ±1℃ |
Air Conveyor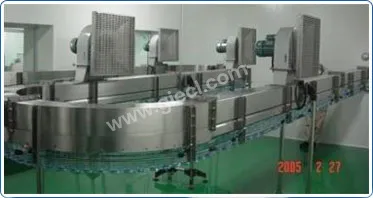 Technical parameter
1) Model of fan: F-9
2) Q'ty of fans: one in every 6 meters
3) Power of fan: 2.2KW/Unit
4) Length of air conveyor: according to plant layout
RXGFD14-12-5 Rinsing-filling-capping Monoblock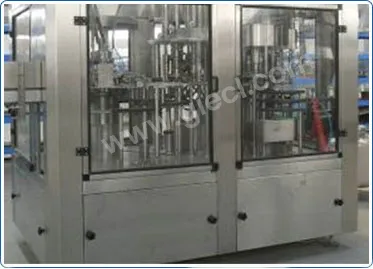 Main features
1.Bottle infeed
Air conveyor is directly linked with feed-in starwheels, making it easier to change bottles without screws and conveyor chains. Equipped with pneumatic block bottle device.
2. Rinser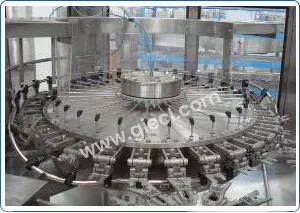 4. Filler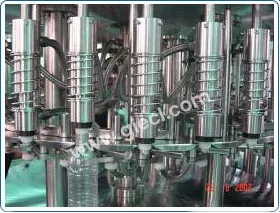 5. Capper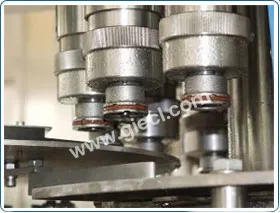 Technical parameters
Ø Number of working positions

:

rinser 14

,

filler 12

,

capper 5
Ø Rated capacity

:

5000BPH

(500ml) subject to viscosity.

Ø Air supply pressure

:

0.7MPa
Ø Air consumption

:

0.8M3/min
Ø Rinsing water pressure

:

0.2-0.25 MPa
Ø Consumption of rinsing water

:

1 ton/hr.
Ø Way of filling

:

Pressure filling
Ø Main motor power

:

1.5 KW
Ø Installed power

:

2.42 KW
Automatic Cap Elevator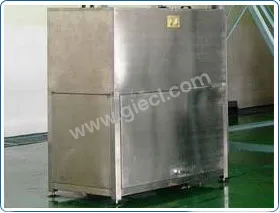 Technical parameter
Fan: 0.55KW
Vibrating motor: 60W
Dimension: 1200×700×1260mm (L×W×H)
Tilting Conveyor

Technical parameters
1. Rated capacity: 5,000BPH (500ml)
2. Conveying belt speed: 0~30m/min
3. Effective bottle side-down length: 6m
4. Showering & Cooling Tunnel

Technical parameters

Cooling capacity: 4,000BPH (600ml)
Effective cooling area: 6.2×1.2m2
Conveying belt speed: 0~1.2m/min
Cooling time is adjustable and main motor is controlled by inverter
Air Blow Dryer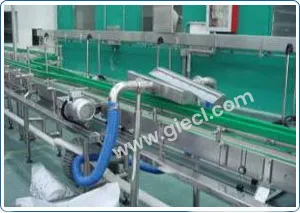 Technical parameters
Model: CGH-01
Ventilator power: 5.5 kw for each
Air pressure: 40kPa
l Air speed: 100m/s
l Air flow volume: 2520M3/h
Bottle Conveying & Buffering System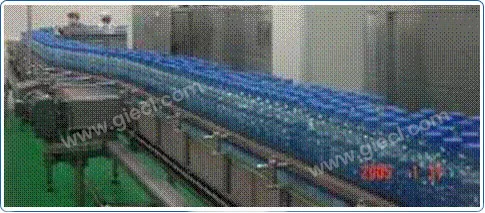 Ink Jet Printer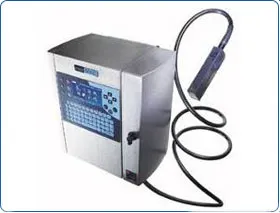 Automatic PE Film Shrink Wrapper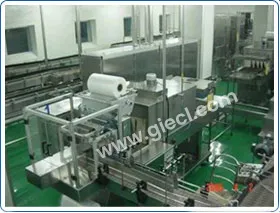 Character
| | |
| --- | --- |
| | Adopting PLC programmable control and touch screen, easy operating and scouting accurately. |
| | Next-case in feeding system, avoiding bottle absence and falling. |
| | Structure in hot wind circulating is adjustable. |
| | Applying to different kinds of films. |
| | Low consumption of electricity, especially in the shrink section. |
| | Alarming when meet malfunction. |
Technological Parameter
Machine dimension: 5150mm×2470mm×1940mm (L×W×H)
Casing size (max.): 400mm×300mm×400mm (L×W×H)
Sealing Length (max): 560mm
Horizontal Height of feed Conveyor: 900+50(mm)
Capacity: 10 cases/min
Power (max.): 26KW
Carton Roller Conveyor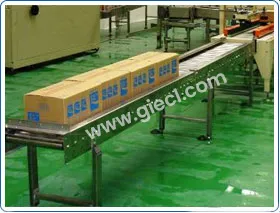 Technical description
Way of working: No-pressure roller conveyor.
Material specification of machine frame: A3 sheet with spraying plastic of δ2.5
Today, drinking water is more and more important for human life. Clean, Pure, Sanitation, Health is most important for drinking water.
As a earliest developer, manufacturer of water treatment equipment,
We always do our best for people in Drinking water. There are 3 tenets of our company: "Enterprising" "Innovation" "Perfection"